BMP5 Anti-Piracy Measures
Best management practices 5 (BMP5) are a set of guidelines intended to deter piracy and enhance maritime security in the Red Sea, Gulf of Aden, Indian Ocean and Arabian Sea.
Seafarers encounter varying security threats when operating ships in different regions. The publication of BMP5 provides a set of guidelines to help ships plan their voyage and detect, avoid, deter, delay and report attacks.

Reporting shows that the application of BMP5 recommendations make a significant difference to the safety of seafarers.
Download your copy of Best Management Practice West Africa Guidelines
his guidance introduces recommended practices and procedures for vessels operating in the Voluntary Reporting Area as depicted on UKHO Chart Q6114 and SHOM Chart 8801CSD.
Enter your email address below to receive an email with a link to download your copy of BMP West Africa guidelines.
What risk does BMP5 mitigate against?
BMP provides global counter piracy guidance and other maritime security threats; however, differences in attack methods from other threats may require other forms of mitigation.
Regional instability introduces other maritime security threats including:
Deliberate targeting of ships by extremist groups.

Collateral damage arising from regional conflict.

Use of new security threats including, anti-ship missiles, sea mines and water-Borne Improvised Explosive Devices (WBIED).
The consequences of not adopting effective security measures can be severe.
Hostages are frequently subjected to violence, ill treatment and periods of captivity that can last for several years. Other attacks have demonstrated an intent to damage ships and endanger life.
Dryad Insight - Our Experts say...
BMP5 has provided the maritime security with much needed guidance to combat physical security threats posed by piracy in the Indian Ocean. The document is a collaboration by consensus and inevitably it has shortcomings; mainly resulting from a rapidly evolving threats as seen through the sensitive Geo-political situation within the Persian Gulf and Gulf of Oman as well as across the Cyber domain. These regional variations and constant evolution's of threat streams makes it increasingly hard for industry best practise to maintain relevance.
Ship operators and ship owners are strongly advised to build on the BMP5 foundations by ensuring that their situational awareness of the Threat is constantly maintained with marine operations risk assessments.
Every transit of a High Risk Area has unique characteristics that should be measured against the current threat picture as close to the time of transit as possible.
Additional SPM or procedures may be required in the form of additional equipment and/or personnel as a means of further reducing the risk of attack.
Vessels should consider the utility of all SPM and select methods for their specific efficacy in mitigating the risks defined within the risk assessment process.
Companies should ensure that threat advice is taken from impartial intelligence providers and avoid the use of threat reporting from entities artificially invested in high risk scenarios.
Companies should ensure that measures that are being employed are done so after full consideration of both their efficacy and an understanding of secondary / unintended risk as a result of deployment.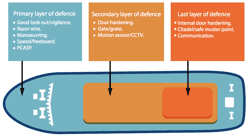 Ship Protection Measures
BMP5 provides Ship Protection Measures (SPM) based on real-life experience of piracy attack and incidents of maritime crime.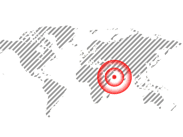 Reporting Guidelines
All ships are strongly encouraged to inform military organisations of their movement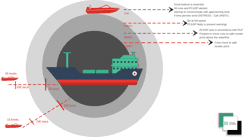 Ships under Attack
A ship may come under attack with little or no warning.