The Indian Ocean and Maritime Piracy in Somalia
Beginning in 2008, the greater Gulf of Aden and wider Indian Ocean area off the coast of East Africa became the most dangerous waters in the world for pirate attacks.
Indian Ocean: Trade Basin
What is happening across Indian Ocean trade routes?
Rates of maritime crime and piracy have declined significantly throughout all key trade routes within the Indian Ocean. Negative trends have been recorded against all incident categories, vessels types, flags and cargos across a protracted timeframe. This significantly reduced volume and severity of incidents, means the risk profile of the wider Indian Ocean can be characterised as low.

Despite the low risk profile there are a number of key transit routes that encompass areas of instability. These areas are often prone to a mixture of legacy and current conflict alongside geo political sensitivity which leads to a persistent threat of instability both manifesting within the maritime domain.

Download our report to check on the current short and long term maritime security trends across the Persian Gulf, Gulf of Oman, Red Sea, Bab al Mandeb, Port Sudan, Gulf of Aden, Somalia, East Africa coast, Comoros Channel and Mozambique.
Context
Somali pirates like those portrayed in the 2013 Tom Hanks movie "Captain Phillips" spent five years regularly hijacking large commercial vessels. With Over 20,000 merchant ships, including ten percent of global oil trade, transiting the Gulf of Aden annually the international response was swift and significant.
International Response
Three international naval efforts, and industry-wide efforts to make ships harder to attack and easier to defend, helped reduce the threat – as did improved local government on land, such as enhanced security and better health and education services. By 2019, the International Maritime Bureau reported no successful hijackings or kidnaps in the Greater Gulf of Aden.
Success
The perception that Somalia is the 'piracy-ridden' state of a decade ago is far from the case. A combination of state building programmes and international collaboration within the realm of counter piracy efforts has to, a large extent, mitigated the Somali piracy threat (however it can of course never be ruled out). Economic development on land has also reduced some of the key economic 'drivers', which push individuals to take part in piratical activity.
Cost of Somali Piracy
At the end of 2010, around 500 seafarers from more than 18 countries were being held hostage by pirates. At the peak of the problem, in 2011, there were 237 incidents of piracy off Somalia and the Gulf of Aden, accounting for more than half of all such incidents worldwide. Somali piracy cost an estimated $6.6 billion in 2011 in international naval activities, maritime security, insurance and other costs.
A study conducted by Oceans Beyond Piracy into the economic cost of maritime piracy found that between 2005 and 2010 ransoms paid to Somali pirates increased from an average of $150,000 in 2005 to $5.4 million in 2010. The largest known ransom payment was for the South Korean oil tanker, the Samho Dream which was ransomed for a record $9.5 million in November 2010. By the end of 2010, approximately $238 million was paid in ransoms to Somali pirates in that year alone.

Other studies into the economic impact of modern piracy suggest that the losses in trade volume due to pirate activities in Somalia accrues to about $24 billion/year (Burlando, Cristea, and Lee 2015) while more conservative estimates suggest the loss ranges between $1 billion and $16 billion, when accounting for the 6 addition of 20 days per voyage due to re-routing around Africa, and increased insurance, charter rates, and inventory costs.
Ship managers and the costs to combat Somali piracy
Re-routing Ships to Avoid Piracy

Low and slow-moving ships are at the greatest risk of piracy attack, therefore avoiding risk zones altogether may be a safer or cheaper option. Total excess costs of re-routing to those ships is estimated to be between $2.4 to $3 billion per year.

Deterrent and Security Equipment

Ship owners can better safeguard their property and crew from piracy attacks by preparing their ships with security equipment and/or guards prior to transiting a high-risk zone. The total cost of this equipment is between $363 million and $2.5 billion per year.
Somali piracy and the impact on insurance premiums
Insurance Premiums Shippers purchase four main types of insurance as indemnity against piracy: war risk, kidnap and ransom (K&R), cargo, and hull. The most significant increase in premiums affected 'war risk' and K&R. The Gulf of Aden was classified as a 'war risk area' by Lloyds Market Association (LMA) Joint War Committee in May 2008, and is subject to these specific insurance premiums. The Oceans Beyond piracy study estimated study that total excess costs of insurance due to Somali piracy were between $460 million and $3.2 billion per year.
Why has piracy off Somalia decreased?
The International Maritime Bureau says Somali pirates have been deterred by a combination of factors, including an increased presence of international navies, the use of private armed security teams, and "the stabilizing influence of Somalia's central government."

In 2019, for the first time in two decades, offshore fishing licenses were issued by the Somali government for foreign and domestic vessels. Over $1 million was collected with funds expected to be reinvested into the domestic fishing sector, according to the World Bank.
Resolution 2500 (2019) Enduring anti-piracy operations off Somalia
In December 2019, the UN Security Council renewed the authorization for States and regional organizations cooperating with Somalia to use all necessary means to fight piracy off the coast of the east African country for an additional 12 months. The council unanimously adopted resolution 2500 (2019), and the authorization as set out in paragraph 14 of resolution 2442 (2018), without significant changes. Contact Group on Piracy off the Coast of Somalia
The Contact Group on Piracy off the Coast of Somalia (CGPCS) was created on January 14, 2009 pursuant to UN Security Council Resolution 1851. This voluntary, ad hoc international forum brings together countries, organizations, and industry groups with an interest in combating piracy.
Participants seek to coordinate political, military, industry, and non-governmental efforts to bring an end to piracy off the coast of Somalia and to ensure that pirates are brought to justice.
The Contact Group's four Working Groups meet regularly around the world to develop and implement national counter-piracy policies and programs.
Nearly 80 countries and several international organizations participate in the Contact Group, including the African Union, the Arab League, the European Union, the International Maritime Organization, the North Atlantic Treaty Organization, and various departments and agencies of the United Nations.
The Contact Group's four Working Groups are:
Capacity Building Working Group, which focuses on strengthening the ability of regional partners to cope with maritime crime. The United Kingdom and the Indian Ocean Commission co-chair the group.


Virtual Legal Forum, co-chaired by Portugal and Mauritius supplants Working Group



Maritime Counter Piracy and Mitigation Operations Working Group, co-chaired by Japan, Seychelles, and the United Arab Emirates. This group serves as the main CGPCS interface with the shipping industry. It also oversees the Shared Awareness and Deconfliction (SHADE) mechanism to coordinate operational entities patrolling off the Horn of Africa.




The Working Group on Disrupting Pirate Networks Ashore, under Italy's leadership focusses on tracking financial flows, and providing political support to the newly formed

Law

Enforcement Task Force

(LETF

).
Latest West Africa Security News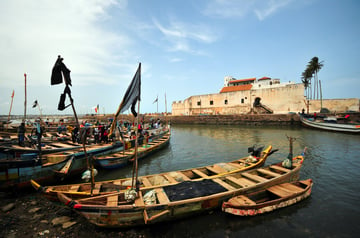 Africa's coastal nations are grappling with a surge in illegal, unreported, and unregulated (IUU) fishing, piracy, and drug smuggling, transforming African waters into a hub for transnational crime, a...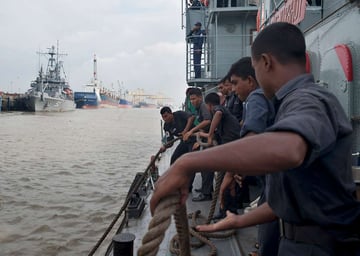 Nigeria, Benin Republic, Togo, and Niger Republic have joined forces to inaugurate "Operation Safe Domain II," a collaborative effort aimed at eradicating piracy and maritime crimes in the Gulf of Gui...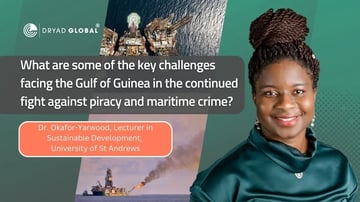 Dryad Global's CEO Corey Ranslem talks to Dr. Okafor-Yarwood about the key challenges facing the Gulf of Guinea in the continued fight against piracy and maritime crime. In 2022, incidents of piracy a...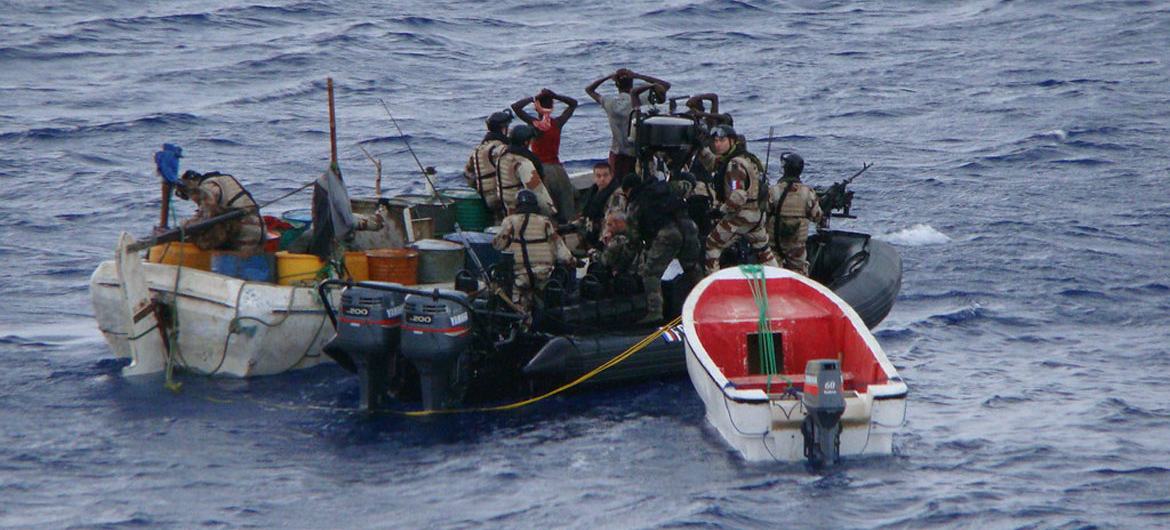 International cooperation is making waves in combatting piracy in West Africa, but addressing its root causes and ensuring sustainable funding must fully eliminate threat, which is spreading to other ...